How to Market Your Live Event App
Effectively marketing every aspect of a live event is critical to its success. This is especially true for an event mobile app. We've worked with thousands of events, and to put it simply – we know what works. Here are five great strategies to keep in mind when marketing your event app.
Start Early
The sooner your app launches, the longer you can advertise it. To make full use of your touchpoints with attendees leading up to your event, we recommend making your app available at least 4 to 6 weeks prior to the start date.
Dedicate a Webpage
Create a page on your website that talks about your app, and nothing but your app. Keep the page short and sweet, and include both Apple and Android store links.
Give the page a concise URL, like MyEventName.com/MobileApp. This makes it easy to remember, especially in places like Instagram where it isn't clickable.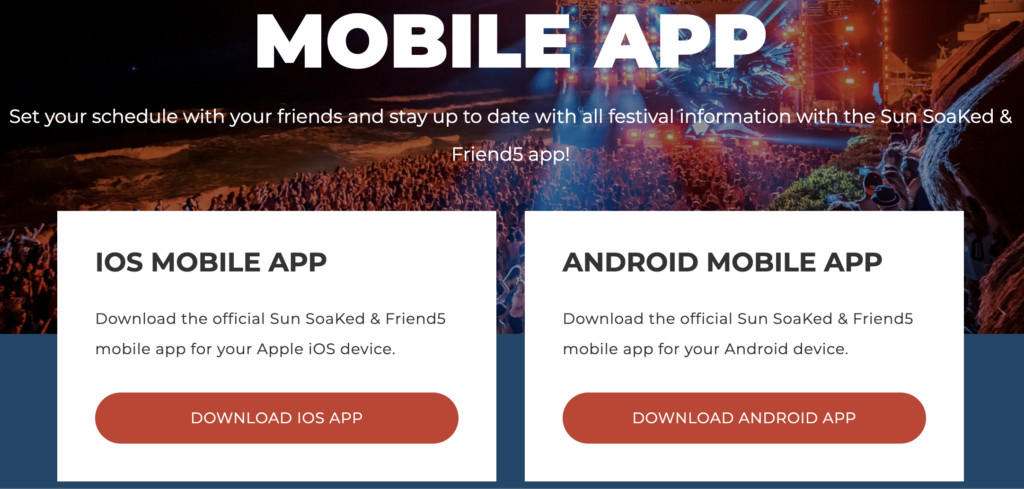 Social Media Marketing
Social media is a powerful tool for promoting your event app. Share information about your app on all your social media channels, including Facebook, Twitter, Instagram, and LinkedIn. Use relevant hashtags to increase visibility, and encourage followers to share your posts. Additionally, include a link to your mobile app in your profile on each of these platforms.
Influencer Outreach
Influencers can be a great way to get your event app in front of a wider audience. Find influencers who are relevant to your event and offer them free access to the event or other perks in exchange for promoting your app. Their endorsement can significantly increase downloads and generate excitement for your event.
Email Campaigns
Email marketing is still one of the most effective ways to reach your target audience. Send out emails to your mailing list announcing your event app, and emphasize the benefits of using it. Include screenshots and a brief description of the app's features to pique their interest. You can also offer incentives like early access to event information or exclusive discounts for those who download the app.
Marketing for your event app can seem daunting, but the right strategies will generate genuine interest and excitement among attendees. Need more advice on marketing or other aspects of your live event? Our Client Support team is available to every single Aloompa client, so let's talk!
Subscribe to our Newsletter
Did you find this helpful? Get all the latest industry knowledge and helpful tips from Aloompa delivered right to your inbox.
"*" indicates required fields